ONLY TOP-QUALITY TIPS
The new tip-authorisation model is still proving to be a great move. The strict selection carried out by well-established experts has lead us to top-level results..

As of June1st, 710 tips were publish on our website with brilliant 14,7% ROI. Had you invested EUR 50 per unit (250 EUR for 5/10, 500 EUR for 10/10 and so on…) on our tips, you could have made over 31,500 EUR. Also, we need to add that almost all tips were proposed on Pinnacle and bet365.

Subscribe to Betprepare and starting making money on betting. We're proving it possible each next month!

| Mon | Tue | Wed | Thu | Fri | Sat | Sun |
| --- | --- | --- | --- | --- | --- | --- |
| | | | | | 1 | 2 |
| 3 | 4 | 5 | 6 | 7 | 8 | 9 |
| 10 | 11 | 12 | 13 | 14 | 15 | 16 |
| 17 | 18 | 19 | 20 | 21 | 22 | 23 |
| 24 | 25 | 26 | 27 | 28 | 29 | 30 |
×
WARNING:
You are now in the free part of the website and not all information is shown. To see all information you can get a subscription
from 3,44 € per day
. Find out more about the benefits for premium users and
register
at once.
02.06.2016. 15:50
Finished
Serena: Putintseva is 'hungry' and gives 200% on every single point
The No. 1 had no problems against Svitolina yesterday. Her opponents simply couldn't stand up to her for the most part of the match. Putintseva is yet to drop her first set at what has turned out to be her best Grand Slam ever. She gave Serena a hard time at the opening in both previous matches but also lost easily in straight sets both times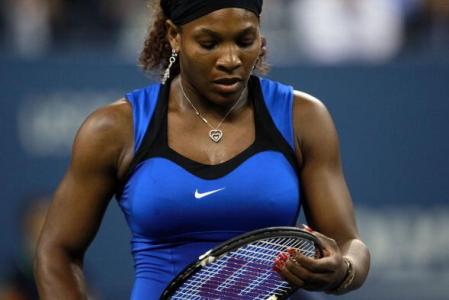 Getty Images
Serena was the first one to secure a spot in quarterfinals out of all the players who stepped out on the court in the same time slot. She opened dominantly from the start and forced her game on Svitolina, who struggled with serve at first and simply couldn't find balance in her game. She had a few good-quality games in the second set but that was all there was. Even with a good game and with a small decline in Serena's game, Svitolina got just one game in the second set.
- I wasn't playing my best game in the third round and I really wanted to step out there and do better. To prove I can simply do better than that - Serena said.
The No. one has had a more favorable draw at Roland Garros compared to last year. She is now just 3 wins short of her 22nd Grand Slam title and of defending the French Open title for the first time since Henin did it in 2007.
She is now to face Putintseva, with whom she played two previous head-to-head matches. One of them was from this season's Indian Wells and the other one from Madrid clay court three years ago. Interestingly, Serena practices at the French Open courts before Madrid and said she was surprised by how fast the surface in the Spanish capital was. She opened both of their head-to-head matches slowly and won the first set through tie-breaks. However, she limited Putintseva to just one game in two other sets. After the Indian Wells meeting this season, Serena said she had to find her inner tiger after the first set.
- Putintseva is tough player. She is really hungry. I feel like she gives 200% on every single point - Serena said ahead of this match.
Putintseva reached just one Grand Slam third round previously. Interestingly, that was at Australian Open this season. She never went past the second here in Paris until this season. Today, she is to face Serena in the battle for semis. Putintseva has not dropped a single set here and has defeated Suarez in two tough sets even though her opponent was the favorite.
- I've been waiting on my Round 4 match for 2,3 days. Of course, you get nervous because of it and I had to even change hotels as well because my reservation finished. I'm happy because the wait paid off - Putintseva said.
We saw both of the sets in the Suarez match unravel in the same manner. Neither Suarez not Putintseva have power in their game so a lot of it came to attempts to tactically outplay the opponents. Putintseva did better in such a game. She was more aggressive (winners ratio was 33-26), but she also made less mistakes (27-36). Suarez paid the price to her too defense-oriented game at key moments once again. Putintseva wanted more on important points, she wanted the upper hand and those are the things that decided the match.
likes:

0

Like this preview
Player 2 total games 6.5 tip: Under
Doublem
| Odds | Stake | Min. odds | Last margin | Bookmaker |
| --- | --- | --- | --- | --- |
| 1.89 | 5/10 | 1.70 | 6 | |
Serena pointed out ahead of this match that Putintseva is 'hungry' and that she gives 200% on every ball, but every player is 'hungry' against the best player in the world. But the fact that Serena pointed that out shows caution in some way, but positive caution, and that is good for this prediction. Serena remembers her two matches against Putintseva and I am sure she will go strong from the start. Just for comparison, she had two slower starts against Svitolina last year, but yesterday she started strong against her. I don't expect anything less today. We should also point out that Svitolina seemed a bit lost at the start, and I wouldn't be surprised if Putintseva goes through the same thing. Serena only had problems on clay this year against aggressive players (Mladenovic, Keys, McHale) and Friedsam in her first match on clay. Putintseva does not belong to that category. Serena defeated Kuznetsova this year by losing only 2 games, Begu won 5, Rybarikova 2 (but she was injured), Pereira 3 and yesterday Svitolina 2. And in my opinion, Svitolina is a level better than Putitseva. Serena had difficult draw at Roland Garros last year, she was injured, sick and she could not reach her true form. Either because of her opponents or because of her problems. That is not the case this year. She is not injured, she if physically fit, and she faced players (except Mladenovic) against whom she could play her game and none of them could compete with her strength. Putintseva also cannot, and just for comparison, last year here, Serena limited Errani to 4 games, Suarez Navarro in Madrid to 3, Brengle to 1, Stephens to 4, Bonaventura to 3, the year before that, Errani to 3, Bencic 3, Suarez 5, Zhang 4, Petkovic 4. The balls in Paris are very heavy, it is cold and there is chance it will rain today which suits Serena more than Putintseva. Just for comparison, at the last tournament, Putintseva won 6 games against Georges in cold Nurnberg, and she had not answer to the German's performance at any time. Last year, also in Nurnberg, she won 6 games, but against Knapp, in Prague, where it is also colder, she was limited to 3 games against Konjuh.
She played two head-to-heads against Serena, she won 6 games in one, and in the second one three years ago on Madrid clay she won 7 games. This year at Indian Wells she didn't win a game in the second set, one in Madrid. So Serena is always capable of giving away 'crumbs' in one of the sets. As I pointed out, Serena is cautious, but positively cautious, and I am sure that she has those two head-to-heads on her mind. The draw was in her favor this year and I am sure she will use that chance. Semi-final brings her the winner from the Bertens/Bacsinszky match, and today's match will be a good practice for the semi-final for Serena.
**There is a chance that the odds shown on this page are not actual odds at this moment, due to a slight delay in processing the odds.