Welcome to betprepare.com, the smart betting website!
betprepare.com: Start date: 12.9.2013.

11.230

85.025

€

0

15.250

Total number of tips
Profit
Number of tips today
Total number of previews
dvoznak.com: Start date: 20.11.2011.

29.570

228.595

€

0

200.483

Total number of tips
Profit
Number of tips today
Total number of previews
Do you want to earn money from sports betting? Do you appreciate up-to-date information for various sporting events? Do you want to have all your tools for successful betting in one place? Do you want high quality useful advice from experienced experts? Do you want detailed and regularly updated livescore results?
Do you want to have all of this in one place?
If your answer is YES, then betprepare.com is the right place for you. It is a unique website, the kind that people who want to find quality betting information were not able to see before. Its Croatian predecessor, www.dvoznak.com, was launched in October 2011 by Toma-soft ltd., the company which deals with IT services and has specialized in the area of sports betting and results.
Our aim is to provide our users with all information necessary for successful betting in one place.. But, how Croatian language is not an international language, we have decided to translate a portion of our contents into English in order to make things easier for people who do not speak Croatian. This mostly refers to Tips and Parlayswhich come with st ats regarding their success rate, made by our experts that can be utilized to make some decent earnings, as was the case on the Croatian version of betprepare.com - www.dvoznak.com. Also here you will find a portion of game previews containing all relevant information for a certain event; detailed, clear, and functional stats for every game/match; odds comparisons and odds changes for all relevant bookmakers.
A serious and professional attitude is one of the main traits of our project and it is reflected in the fact that previews and tips are written by 40 experts specialized in following several competitions. These tipster have a team of IT experts and administrators at their disposal that take care of their system for processing results, tables, stats, odds movements and odds comparison, margins movements, and livescore.
Several hundred tips per month is the basic content of subscription to betprapare.com. The tips rely on previews and statistical comparison and represent the subjective take of our experts on objective information from the previews written for the dvoznak.com website. Considering their success rate can be measured, their value is clearly reflected in the results they achieved.Since our Croatian website dvoznak.com started, our tipsters have made a profit of 228.595 EUR with the yield of 7,98 … Read more
Betprepare.com's tipsters write tips for leagues and competitions they have specialized in and the events that they wrote previews for. This enables us to ensure the necessary quality and guarantee the credibility of everything that has been written. We believe that good betting results can only be achieved through detailed approach and specialization. A casual approach can be very costly in this line of work.
Each tipsters' results and the archive of their previous tips are publicly accessible and visible to all users. You can choose your own methods for betting/following previews based on this. Most tips are published between 11:00 and 11:45. The e-mail notifications about new tips/parlays will be sent for all tips posted before 11:00 and after 12:00.
The parlay section was introduced one year after the website was launched. These bets consist of several tips with lower odds that are combined to give the value to the overall bet. This service does not just recommend you who to bet on but it goes even a step further. The website's IT team has developed an application which connects tips based on several preset parameters (recommended stake, available odds...) … Read more
The result of this is a parlay betting ticket with recommended stakes and the bookmaker with the best odds. The 'Parlays' section on www.dvoznak.com has been having great results and you can check its stats inside the section itself. The option of receiving e-mail notifications regarding parlays published outside the standard time is activated with that for the tips.
Betprepare.com offers you the previews for the most interesting games or matches of the day. These are the few selected previews translated from the main website Dvoznak.com which has previews written by experts for most competitions offered by the bookmakers. These experts follow the competitions on a daily basis. The previews, the quality of which was gradually perfected during the last two years, allow us to share the most valuable information with the punters from across the world. Without quality previews, our tips wouldn't be so successful … Read more
The aim of previews is to provide head-to-head comparison between participants, the form and atmosphere for each participant, the absent players and their importance for the team, the teams' expectations and motivation ahead of the game, tactical aspects, the importance of certain games, interesting facts from previous games etc... The previews are not just mere re-iterations of facts that can be found in the stats section (for instance, previous results, standings, home and away efficiency, head-to-head information etc.). In fact, the previews and stats go hand in hand since all punters should take both elements into consideration when making the bet.
Not only is it important to suggest "what to bet on", it is also important to suggest "what not to bet on" if the information speak against the selected bet (lots of absent/injured players, lack of motivation etc.). Not losing money is as important as earning it.
All of this implies a large amount of content, an average of 100 to 200 previews per day (even more during the weekends), i.e. between 3 and 5 thousand every month.
Our sources are not necessarily only second-hand information from other media. We have already sent our own journalists to some less popular competitions. In our first year of existence, our journalists were the only ones from our region to cover various youth championships from countries like Latvia, Lithuania, Poland and Turkey.
The importance of these competitions is reflected in the exclusive information that our journalists get on the spot which puts them one step ahead of the bookmakers.
In addition to individual events, we also publish previews for entire competitions. These pre-season previews give you a chance to get to know all the teams before the first round and serve as a guarantee that our associates are well-prepared for the competition in hand.
Stats, odds comparison, and margin comparisonTop ↑
All events, even those without written previews, come with stats as well as odds and margin comparisons. These can be used to find out the most important statistical information for teams/players as well as movement of odds and margins on the market. This is an essential tool for all serious and semi-serious punters, and it can also be a great help even to casual punters. This part of our website is completely free and visible to all visitors. … Read more
For team sports, this category provides the information about their standings and efficiency (overall, home, away), their latest results, upcoming games, all head-to-head games, stats for scoring/allowing/conceding goals/points, covering the handicap etc. When it comes to tennis, you can also see previous matches, head-to-heads, overall score throughout the years on various courts, overall points, handicaps etc. The stats are interactive and the users can find almost any information they need for a certain event and they do not have to visit any additional websites. The stats are available for all events in our database, even those that don't have a preview. You can find out more about our stats in the Help section. When analyzing a certain event, it is important to know which bookmakers offer the best odds and/or margins for a certain bet. Using our odds comparison, you can find this information right after you read a preview and check the stats. They are very detailed and clear and allow you to see the odds and margins for almost all international bookmakers, which is something that only our website has to offer!.
Our odds and margin comparison for each player's performance are also unique. Our website allows you to see the complete betting options for each player so that you don't lose your valuable time searching each the bookmaker's offer one by one.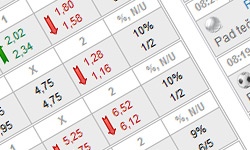 Our website allows you to keep track of livescore, both in full-page view and in smaller format if you click on 'Livescore' in the bottom right corner. Clicking on this option opens the livescore to the right of all betprepare.com content. This way you can track your bets and other results you are interested in in real time.
Premium membership Top ↑
It is impossible to produce such large and high quality content like ours without charging the access. Full access is only possible with a paid subscription. One part of the website's content (previews and 10-20% tips) is free and can be accessed by all registered users … Read more
All subscribers will also be given an option to activate a free account on Dvoznak.com, the original Croatian version of the website, on which you can find all source texts (if you want them translated into your own respective native languages as a confirmation of the continuous analytical work of our experts in all events). We believe that paying for information such as these is not just paying for a hobby (such as the newspapers), but an investment as well. If you invest 10-15 euros per day or more, the real question is not whether you can afford the subscription but whether you can afford not having the subscription. The (converted) price of monthly subscription is 3.33 euros per day. Are you actually saving money by not taking the subscription and still spending around 10 euros every day at the bookmakers? Can missing out on quality information on what to bet and what not to bet on be called saving money? Or do we call that missed opportunity? We believe most of our users will not only get the satisfaction when purchasing our content, but also make the money of it, thus enabling their initial Betprepare.com subscription to purchase the following one! And many other things...
You can read more about the membership, registration and purchasing subscription.
If you have any objections, complaints, comments, or suggestions, please contact us via contact form. You can also find us on Facebook and Twitter.
'By betting on Dvoznak's tips I have made over 10,000 euros in a year' - Luka, 32 Zagreb
'a phenomenal betting tool for serious punters' - Nikola, 28, Split